Windmill AC is efficient, powerful, and easy to use
[ad_1]

Windmill wants to solve one of summer's most intractable problems: the blight of ugly air conditioners. The New York-based startup launched in 2020 with a 10,000-person waitlist for its $415 smart AC, a sleek window unit that has more in common, design-wise, with Apple's HomePods than the hulking air conditioners of yore. The first run of units sold out within 48 hours. 
This April, Windmill's wifi-enabled air conditioners got a mini makeover with the reveal of a smaller $365 unit — a 6k BTU A/C that cools up to 250-sq ft., which makes it ideal for a city apartment or office space. (Compared to the original 8.3k BTU $415 unit that we reviewed last year.) The line expansion arrives alongside the announcement of a $10M fundraise and the addition of Walmart to the direct-to-consumer brand's list of big-box retailers, which already includes Home Depot and P.C. Richard & Son.
Windmill's Wi-Fi-enabled air conditioners are back in stock and ready to tackle that backlog of customers—and then some. The brand sells direct to consumers, and now at Home Depot and P.C. Richard & Son.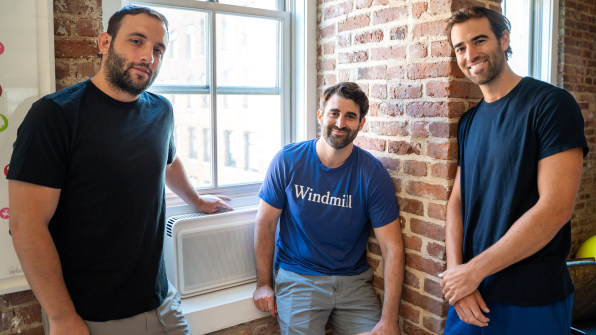 Founded by Ryan Figlia and brothers Mike and Danny Mayer, Windmill set out to update the traditional AC for the 21st century, designing a more aesthetic, environmentally savvy, smart-device-compatible machine. Figlia represents the third generation of AC innovators in his family, while Mike Mayer comes from the world of startups, having been part of the inaugural class of Andrew Yang's Venture for America. The three joined forces when they attempted to revive an abandoned AC unit in Danny Mayer's New York apartment. 
The AC they came up with is matte white with soft, curved edges and cane-like grates across its front. It can be controlled and programmed for three cool and three fan settings via the Windmill app, a small remote, or on the machine's top buttons: a white LED digital display that fades away after it's been set.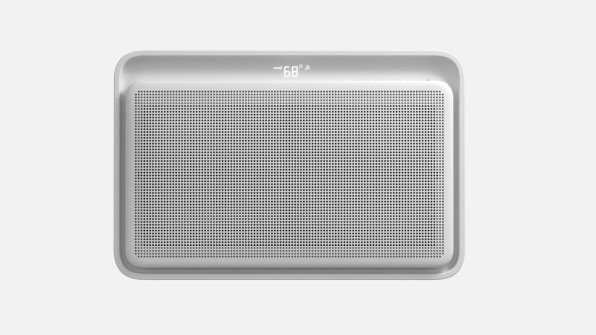 The machine arrives preassembled; the only big task is securing it into the window and then sizing and snapping in the included insulation panels over the accordion side curtains for a seamless look. The company partners with TaskRabbit for installations (starting at $40).
It took less than 30 minutes to get my 60-pound Windmill AC through the door and into my tiny brownstone window. It's now humming along and looking great. The unit is exceptionally quiet, and I haven't had any issues with it drowning out music or TV or when I'm speaking on a Zoom call. It pumps out 8,300 BTU, which cooled my extremely sunny (read: sweltering) 250-square-foot, split-level living room just fine within a few minutes. (It's recommended for rooms up to 350 square feet.) 
Air blows from the top of the unit, which, Mike Mayer explains, comes at a 45-degree angle for more efficient circulation. "If you think about it, most units are [installed] in windows at waist height," he says. "We did a ton of customer research in the beginning and people would complain about air blowing in their faces when they're on their couch or directly onto their bodies in bed." Pushing cold air up and out allows it to fall and circulate, rather than dropping straight to the floor.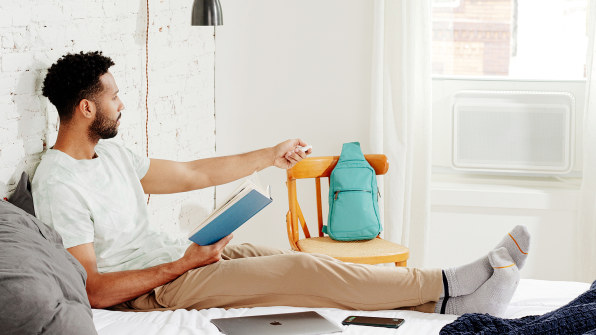 Windmill's units also feature purifying, antimicrobial filters, sheltered beneath the front panel, which secures with a magnet. The activated carbon filters are designed to be rinsed with water regularly, though they should be replaced entirely every few months (refills are available on Windmill's website for $35). If you're running the unit during the summer months only, you may need a new filter just once a year.
The brand isn't the first to emerge with a clever, direct-to-consumer solution to the old, clunky AC. A startup called July introduced simplified, stylish units that start at $479 and come with interchangeable front panels and app-controlled tech last year. Meanwhile, consumer brands, including Frigidaire, Toshiba, and Midea, have also met millennial demand: reimagining their machines with sleek makeovers and smart connectivity.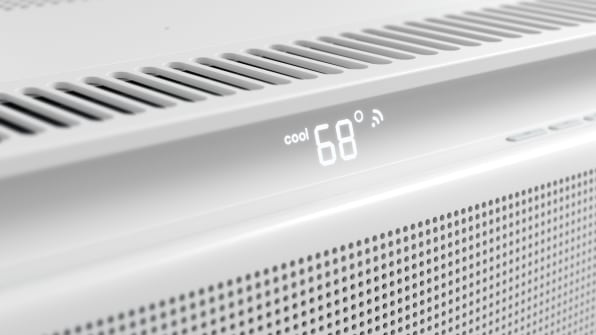 When we spoke in 2021, Mayer said Windmill, which announced a $3 million seed round this week, plans to expand into other air-quality products while continuing to iterate on its AC. The startup has recently incorporated an energy-efficient Eco mode that allows the unit to regularly detect temperatures and flip on or off when needed. The company will also help New York customers recycle their old AC units and say new features to help users conserve energy via their device(s) will roll out through their app this year. (Windmill works with Pachama to offset the carbon footprint of each unit sold.)
So, do you need a Windmill AC? If space is a premium, you'll find that Windmill is small, fits into a tiny apartment window (install requirements are a window that opens 14 inches with a width between 23 and 37 inches), and packs a punch without disrupting the room's aesthetic flow. If space isn't a premium, you'll still find that the device boasts several pros: simplified filter maintenance, easy-to-program settings, and an accessible price point.
As someone who has had a blanket hiding her hideous portable AC unit for the better half of the year, I can attest that it's easy to use, easy on the eyes, and makes every other air-conditioning unit look and feel outdated. I told myself I would get through this story without calling the Windmill AC "cool"—but it's most definitely not not cool.
Fast Company's Recommender section is dedicated to surfacing innovative products, services, and brands that are changing how we live and work. Every item that we write about is independently selected by our editors and, whenever possible, tested and reviewed. Fast Company may receive revenue from some links in our stories; however, all selections are based on our editorial judgment.


[ad_2]

Source link